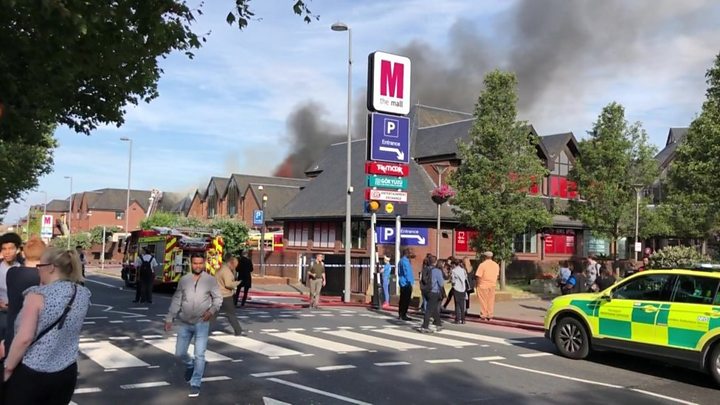 A huge fire has broken out at a shopping centre in east London.
More than 150 firefighters, with 25 fire engines, are tackling the blaze at The Mall shopping centre in Selborne Road, Walthamstow.
One woman has been taken to hospital, the London Ambulance Service said, and people have been warned to avoid the area.
The fire brigade, which was called at about 07:40 BST, said part of the roof was alight. The cause is not yet known.
A manager of one of the shops in the Mall, who only gave her name as Sabrina, told BBC Radio London: "I can see my store is already on fire, it's gone. So there's nothing for me to go back to. I'm really upset."
The Mall has 66 stores across one floor, with a small upper area for restaurants.
Images and videos posted on social media of the scene shows smoke billowing into the air and flames lapping part of the roof.
Witness Alex de Lange said: "There's massive amounts of black smoke billowing from The Mall.
"There's a helicopter and lots of fire engines and sounds like some explosions too. The bus station has been evacuated."
Elly Gresham-Scott said the "air was hazy" with ash particles.
Freddie Joyce said there were "massive high flames spreading at high speed".
Fire station manager Steve Smith said: "There is a lot of smoke so we would advise local residents to keep their doors and windows closed while crews tackle the fire.
"There are local road closures in place so motorists should avoid the area where possible."
Walthamstow Central Tube station was evacuated earlier but has since re-opened, while local bus routes are on diversion.


blocked drains hoddesdon

Source link